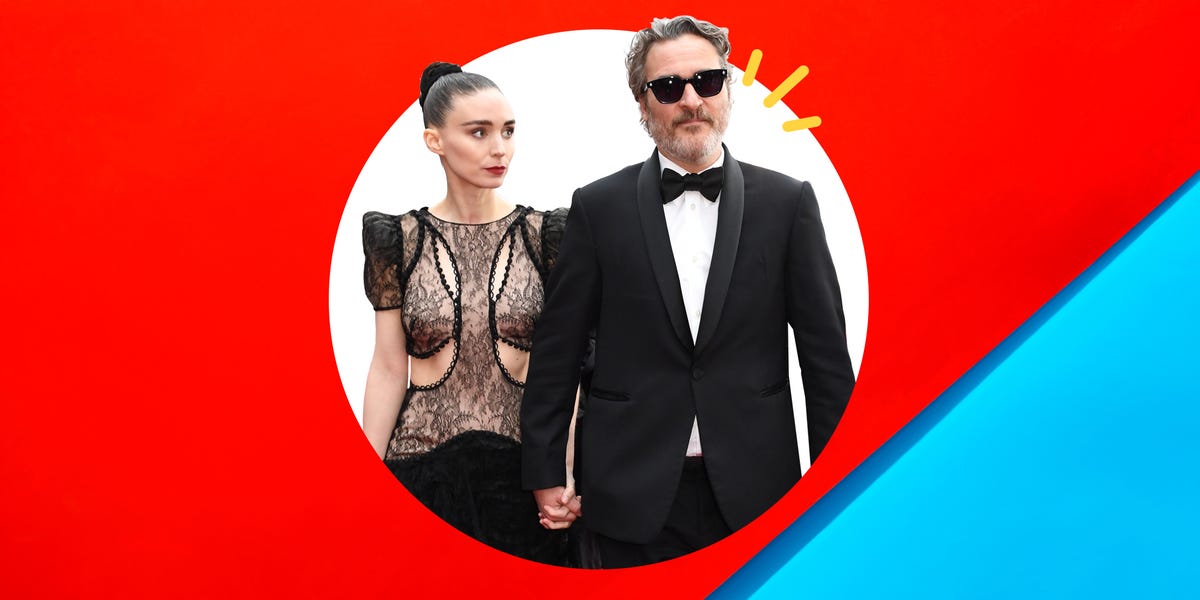 Rooney Mara And Joaquin Phoenix's Body Language, Explained
Joaquin Phoenix was once convinced fiancée Rooney Mara despised him. The super-private pair met in 2012 on the set of Her, a Spike Jonze film in which Rooney played Joaquin's character's ex-wife. Turns out, she was just shy, Vanity Fair reported. So, he went for it. "She's the only girl I ever looked up on the internet," he told the magazine. "We were just friends, email friends. I'd never done that. Never looked up a girl online."
The duo eventually joined forces again in 2016 while filming Mary Magdalene, in which Rooney played the titular role and Joaquin played Jesus. They started dating shortly after.
Since then, audiences have gotten glimpses of the couple: an embrace at the Cannes Film Festival, marching together for environmental and human rights causes, and sweet, if not a bit bizarre, shoutouts in acceptance speeches. ICYMI, Joaquin referred to Rooney as a "filthy dragon" whose wings he wanted to rip off, fasten in a blanket, and sleep with forever at the 2019 Toronto International Film Festival when he accepted his Tribute Actor Award.
That same year, he proposed to Rooney, and in 2020, the couple welcomed their first child, a son named River after Joaquin's late brother.
And while they've clearly built a life together, most of it is under wraps. Oftentimes, this means there's great love there—something to cherish away from the critical eyes of fans. Body language expert Karen Donaldson analyzed the couple's moves (the few out there) to determine just how Rooney and Joaquin work so well together and prove exactly why they have something great to protect.
Advertisement – Continue Reading Below
1
Their trust in each other is rock-solid.
"Joaquin hugs Rooney around the waist, this type of hug is indeed one of the most romantic and intimate types of hugs," says Donaldson. His hands extend to her lower back, which is an erogenous zone. "This type of hug speaks volumes, showcasing the fact that you feel comfortable with your intimacy and that you trust your partner with your feelings."
Now, Rooney's arms around Joaquin's shoulders closes out the subconscious circle the two have created with their bodies. It means they feel safe together.
2
They've got similar goals.
When a couple walks in step, it means they've got similar mindsets, goals, and visions for the future. They're literally walking forward together.
Thing is, Rooney's ahead of Joaquin. In some cases, this could mean she takes the lead in the relationship, but Joaquin's hand on her shoulder means he's cool with that as long as he's along for the ride. His hand placement, says Donaldson, is a gesture of connection.
3
Rooney's comfort is priority for Joaquin.
Rooney's hands in her pockets "can signal discomfort," says Donaldson. It's often a self-comforting gesture, she adds.
It's likely Joaquin picked up on that, which is why he's got a supportive hand on Rooney's back. It's his way of communicating that if ever she needs him, he's there.
4
Joaquin's enamored.
You've seen this before on the red carpet. A husband, usually, playing it up for the cameras to show what a doting partner he is. In this case, it's the real deal.
"Joaquin stands in awe and admiration of Rooney," says Donaldson. "His hand is on his face and his mouth is wide open." But the real giveaway? His feet. The angle of our feet reveal what's on our minds. Since they're both pointed at Rooney, rather than the cameras, Donaldson's confident Joaquin's "attention is all on her."
5
Rooney's got zero doubts in Joaquin.
"Rooney has been caught off guard," says Donaldson. Sure, she's smiling, but "the tautness in her neck tells us that there is a slight bit of discomfort happening."
"Joaquin seems to be in full play mode welcoming Rooney into whatever is happening," she adds. His smile takes over his face and his open hand gesture—palms facing up— is a non-verbal welcome into his space. He wants Rooney there, and that's exactly where she wants to be, too.
This content is created and maintained by a third party, and imported onto this page to help users provide their email addresses. You may be able to find more information about this and similar content at piano.io
Advertisement – Continue Reading Below